The Federal Motor Carrier Safety Administration at the Department of Labor requires a pre-trip inspection by the driver. Any deficiencies must be acknowledged and certified that appropriate repairs have been made before a trip begins.
What is a pre-trip truck inspection?
A pre-trip truck inspection is a thorough check of the truck and its major systems to maintain safety on the road. Inspections need to occur before the start of a driver's shift and at least once every 24 hours while on the road.
Truck pre-trip inspection needs to be performed by the driver while on duty, but before driving starts.
Why truckers should always perform a pre-trip inspection
Driving a truck is one of the most dangerous occupations, according to the Bureau of Labor Statistics. Drivers of heavy trucks and tractor-trailer trucks suffer fatal accidents more than any other occupation.
A pre-trip inspection checklist helps keep drivers safe. Your inspection is important to ensure safety, maintenance, and procedures are followed to help mitigate liability.
Safety
A CLD pre-trip inspection checklist helps uncover potentially dangerous conditions, such as unsecured loads or problems with brakes or steering. While it might be tempting for experienced drivers to skip or shortcut a pre-trip vehicle inspection, it's never a good idea. "Better safe than sorry" should be the mantra 100% of the time, and drivers should never skip a thorough pre-trip inspection before a truck hits the road.
Maintenance
A truck driver pre-trip inspection can find minor issues before they become serious. This can save you money on maintenance by solving problems before your trucks get on the road. Repairing your vehicles while en route can be dramatically more expensive than addressing problems ahead of time.
Compliance
Your DOT pre-trip inspection helps you stay in compliance with Department of Transportation regulations. In the case of an audit, the DOT may review your pre-trip inspection checklist to ensure they have been filled out properly. If the audit shows that issues have been ignored or uncovers a violation, it can lead to fines and hurt your Compliance, Safety, Accountability (CSA) score.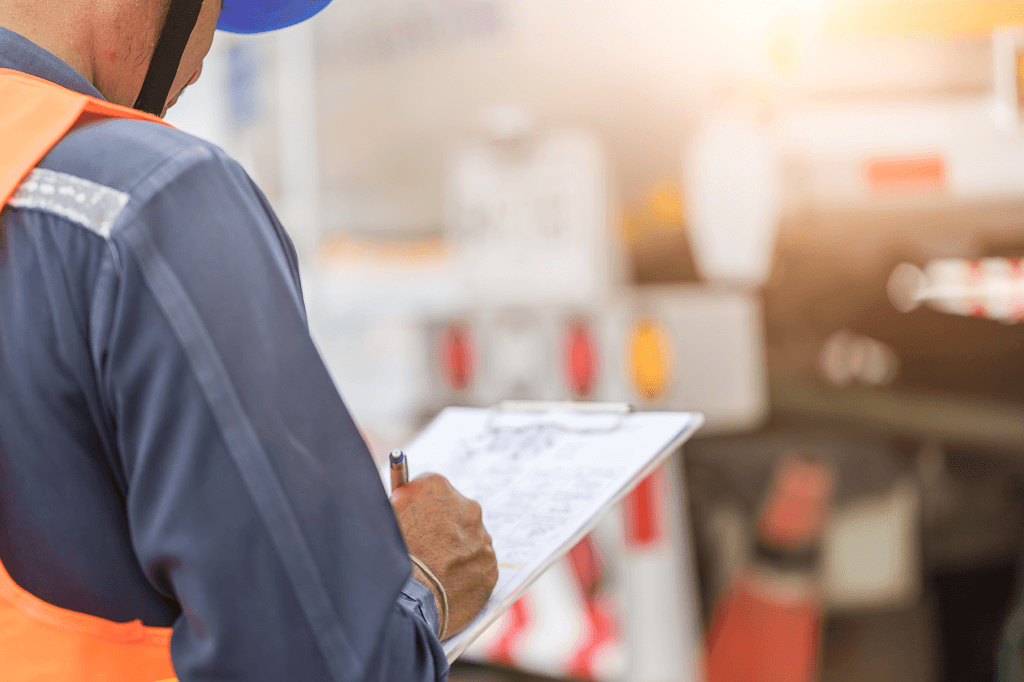 Liability
While truck accidents represent a small portion of overall vehicle accidents, large trucks account for more than 4,000 fatal accidents involving drivers, passengers, and pedestrians each year. Even if drivers are not at fault, your liability can increase if you can't show proof that a pre-trip inspection report was done, was completed improperly, or if known defects were not addressed.
How long should a pre-trip inspection take?
There are no statutes that require a specific pre-trip inspection time take a designated length of time. In practice, an inspection should take as long as necessary to ensure vehicles are safe to drive and have been properly maintained. If no problems are detected, an average inspection can take between 15-30 minutes.
Do not rush inspections. It's easy to miss things that can put drivers and others at risk.
Pre-trip inspection checklist for truckers
Do you have to log a pre-trip inspection?  The answer is yes. Not only are you required to do so by federal law, but you also want the documentation in case of any claims against your company. So, what should a pre-trip inspection checklist include?
Here are some of the most common items:
Inspect the engine compartment.
Inside the engine compartment, check components including:
Radiator
Air compressor
Steering gearbox
Steering linkage
Water pump
Alternator
Belts
Hoses and wiring
Inspect the fuel tank and battery.
Your pre-trip inspection should include a visual check of your fuel tank and battery area to make sure nothing is cracked or leaking. Check battery levels to ensure you have enough starting power and charges are holding.
Inspect the fluids.
Check for fluid leaks by looking under the truck for signs of fluid on the ground, including:
Fuel
Oil
Coolant
Power steering fluid
Brake fluid
Windshield washer fluid
You will also need to look under the hood to rule out any problems inside the engine compartment. Your pre-trip truck inspection includes checking for adequate fluid levels and the condition of hoses, belts, and wires for safe operation. Pay particular attention to the oil pressure gauge to make sure it's working properly.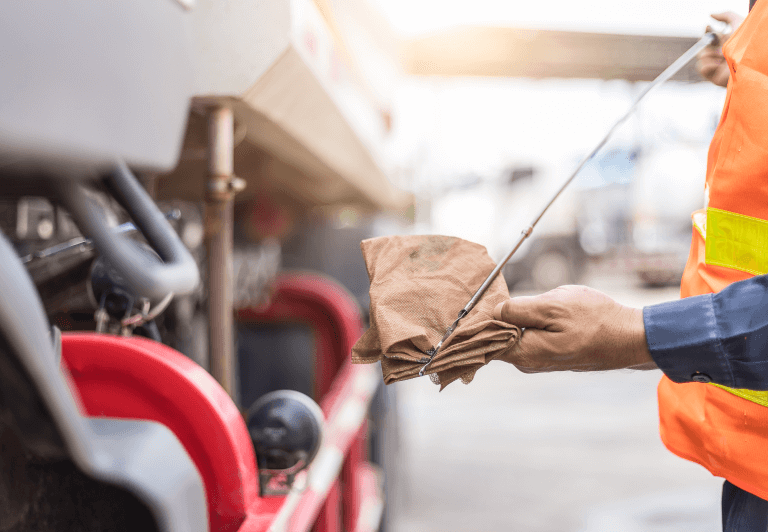 Inspect the brakes.
If your brakes aren't working optimally, you put drivers and everybody else on the road in danger. A proper pre-trip inspection will include inspecting the brake system both in-cab and externally.
Truck drivers should check the brake adjustment with the slack adjuster for proper alignment.
Check brake linings for appropriate thickness.
Ensure your truck's air lines aren't damaged, don't leak, and are properly sealed.
Brake checks should include air brakes, parking brakes, and hydraulic braking systems.
Inspect the tires.
Inspect tires to make sure you have an acceptable amount of tire tread for safe operation. There should be no cuts, bubbles, or gouges. There should be no foreign objects, such as stones or large debris, between the wheels and no space between tires and rims.
Also, be sure to check and maintain the appropriate air pressure.
Inspect the wheel lug nuts.
Regardless of tire condition, you also need to check the lug nuts. Tighten any loose wheel fasteners. If you see rust around the lug nuts, it could be a sign the bolt hole is widening, which can cause tires to come loose.
Inspect the coupling system.
A failure in the coupling system can cause you to lose your load. Pay particular attention to your kingpin and the sliding fifth wheel locking pin. Then check the other components that connect your trailer to your cab, including:
Air lines
Apron
Electrical connections
Gap
Glad hands
Locking jaws
Mounting bolt
Platform
Release arm
Skid plate
Inspect the lights and reflectors.
Exterior lights and reflectors help other drivers see your vehicle approaching and make your rig more visible at night. Check that lights, warning lights, and turn signals are working properly, and lenses are clean for maximum visibility.
Reflectors tend to fade over time from exposure to the elements. Make sure your truck's reflectors are free of any dirt or debris. They should be intact without cracks, missing pieces, or peeling.
Inspect the trailer.
Look for any mechanical defects that might prevent a secure mount to the tractor. Do a pre-trip truck inspection to look for items such as holes, cracks, breaks, bends, or missing rivets in the:
Headboard
Frame
Release pins
Crossmembers
Release handles
Locking pins
Doors and hinges
Inspect the cabin.
Inside the cabin, check seatbelts for any signs of wear or fray and ensure a snug fit. You should also check the operation and functionality of your inside and outside mirrors, seat position, steering wheel, and pedals. Make checking the windshield for cracks or chips standard operating procedure, along with performing a safe start to make sure lights and turn signals are working properly.  This includes ABS lights and gauges. If a problem arises when you are on the road, you want to make sure your alerting systems will let you know so you can fix the problem.
You'll also want to check your windshield wipers and horns.
Inspect the emergency kit.
Trucks are required to carry emergency equipment kits that include:
Fire extinguishers readily available for use
At least one spare fuse for each type of fuse needed for parts and accessories
Warning devices for stopped vehicles, such as bidirectional reflective triangles
Red warning flags that can be maintained in an upright position
Each item should be in working condition in case of an emergency stop.
Safely haul more high-paying loads.
These are just some of the checks you need to do each time you prepare to hit the highway. Your pre-trip truck inspection checklist should include every aspect of your vehicle and its loads. Ensure you have all the necessary paperwork and documentation to prove the pre-trip inspection was done properly and retain copies for your records.